Lynda Todd on AMI This Week
July 10, 2019 – Lynda Todd is a real go-getter. She shares the beauty of her abstract paintings with Toronto Bureau Reporter Alex Smyth. She also invites him to experience a favourite pastime of hers: axe throwing.
Lynda Todd, a Peterborough-based artist who is legally blind, demonstrates how she creates her stunning abstract paintings. Todd has an eye condition called nystagmus and has very little peripheral vision and is colour blind. Yet, her art work has caught the attention of some local gallery owners.
May 29, 2019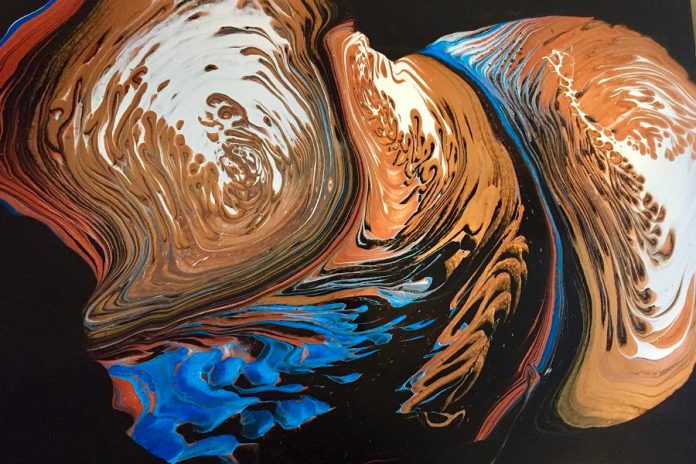 Press Release
"From Dark to Discovery"
Lynda Todd, Peterborough Free Form Artist, opens her newest, most daring exhibit and sale at Paul's Art and Frame Gallery at 588 Monaghan Road, Peterborough.

She comes to revelation after spending a lifetime as a legally blind person and now she has harnessed her talent and abilities to create something that no one has seen before; but that everyone should see. Each piece offers something unique to the viewer.

Lynda has taken the artwork to the top tier with the larger, more complex pieces that embrace a wealth of colour, and mysterious textures. The movement across her canvases is a dance in motion.

The exhibit and sale are on for the month of June 2019.
The Opening Reception is on Saturday, June 8th, 2019, 2 p.m. – 6 p.m.
to which the public is invited. 
At Paul's Frame & Art Gallery
588 Monaghan Rd, Peterborough, ON
South of Lansdowne at Cameron.
Accessible entrance at the back.

Please come out and meet the
artist.
Lynda Todd has her artwork presented at the Cavan Art Gallery, the Spirit of the Hills Show & Sale in Warkworth and the Miskwaa Art Gallery near Buckhorn.

Valerie Kent, Cavan Art Gallery states, "In Lynda Todd's art, it is light that is the essence. Each piece is a gem in its many facets."

Lynda has sold commissioned pieces and is pleased to collaborate
with clients for gorgeous new work.

Come prepared to experience the original works of Lynda Todd.

Contact:
Lyndatodd.com
cell: 705.760.4899