Peterborough:  Artist Lynda Todd is the solo Canadian artist at the Curious Mondo Art Symposium 2022 that debuts on August 15 – 19, 2022. 
Todd, the only Canadian, joins 14 other artists worldwide from the US, UK, Greece, Egypt, United Arab Emirates and more, at the symposium.  
Curious Mondo, based in Salt Lake City, Utah, is a known platform for live-stream workshops and courses and has an audience in over 32 countries. Over 10,000 new people watch each day. Each workshop will be available to watch for free during its scheduled broadcast hour. There will be three workshops each day. 
Todd explains, "As a visually impaired artist I am used to giving and receiving detailed step-by-step instructions.  My goal is to encourage others to embrace their creativity".
Todd will be on a live chat you can join for free at 1 p.m. (MDT) on Tuesday, August 16th, 2022.  
Join the LIVE Symposium Kick-Off Event starting at 11 a.m.(EST) on August 15th, 2022.   Free registration information here. Todd started her art journey three years as a fluid pour artist and has expanded to resin and sculpted art.  She is presently working on a new exhibit of tactile art, opening up opportunities for the visually impaired and blind to enjoy art in a more  intimate way.
Todd won the Spirit of the Hills Fine Art Award in 2021 and the life-time achievement Holnbeck award for her volunteer work in the Peterborough community. 
Artists who applied to become part of the symposium had to submit their project plans and photos. The Todd submission presented methods for using resin art.  Nikolas Kienitz, the instructor liaison for Curious Mondo explains that the project presented in the symposium had to be approachable both for newbies and the more technically advanced participants in resin art.  
Curious Mondo student, Ivonne Hugely, describes her experience as "I love the classes and the enthusiasm of both the instructors as well as the hosts. I love the feeling of community in the chats and the camaraderie and friendships that have  developed while growing as an artist in both skills and confidence. Thank you, Curious Mondo! I especially love the fact that your courses are free while you're live and filming. It really helps".
Curious Mondo founder, Shahar Boyayan, explains, "We are Mondo Makers. We live and breathe creativity: we find creative solutions to problems, we bring new ideas to fruition and we are committed to empowering self-expression and cultivating resourcefulness in people and communities. We do this through ART. By making it, preserving it, and carrying on the legacy of different art forms!"
Todd describes her workshop, "I will teach how to create a work of art with resin, how to mix resin, what you can use to tint your resin and safety precautions. Participants will learn doming, casting, coating and so much more. Tips and tricks will be offered throughout the class and She will go over techniques and applications for resin. Even if you've never used resin, alcohol inks or acrylic paints, everything you need to know is covered in the class to get you started and 'embrace your  creativity'.
The public can join the Live classes free of charge or can purchase life-time access for only $97 and get access to all of the workshops, bonus classes and studio tours.
For more information please contact Lynda Todd at 705.760.4899.
Feature Documentary
July 10, 2019 – Lynda Todd is a real go-getter. She shares the beauty of her abstract paintings with Toronto Bureau Reporter Alex Smyth. She also invites him to experience a favourite pastime of hers: axe throwing.
Lynda Todd, a Peterborough-based artist who is legally blind, demonstrates how she creates her stunning abstract paintings. Todd has an eye condition called nystagmus and has very little peripheral vision and is colour blind. Yet, her art work has caught the attention of some local gallery owners.
May 29, 2019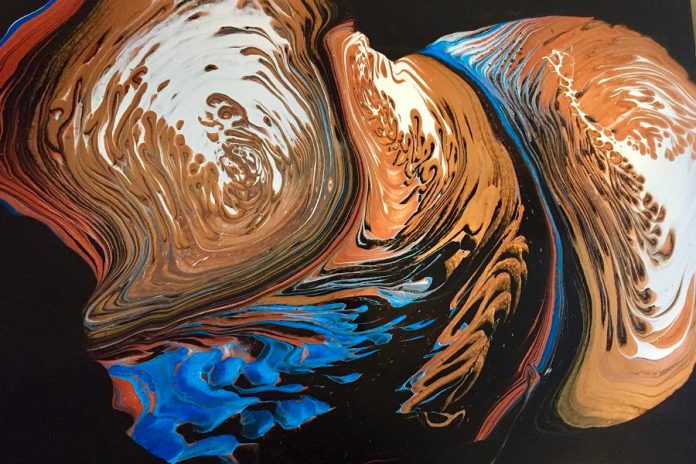 Press Release
"From Dark to Discovery"
Lynda Todd, Peterborough Free Form Artist, opens her newest, most daring exhibit and sale at Paul's Art and Frame Gallery at 588 Monaghan Road, Peterborough.
She comes to revelation after spending a lifetime as a legally blind person and now she has harnessed her talent and abilities to create something that no one has seen before; but that everyone should see. Each piece offers something unique to the viewer.
Lynda has taken the artwork to the top tier with the larger, more complex pieces that embrace a wealth of colour, and mysterious textures. The movement across her canvases is a dance in motion.
The exhibit and sale are on for the month of June 2019.
The Opening Reception is on Saturday, June 8th, 2019, 2 p.m. – 6 p.m. to which the public is invited.
At Paul's Frame & Art Gallery
Lynda Todd has her artwork presented at the Cavan Art Gallery, the Spirit of the Hills Show & Sale in Warkworth and the Miskwaa Art Gallery near Buckhorn.
Valerie Kent, Cavan Art Gallery states, "In Lynda Todd's art, it is light that is the essence. Each piece is a gem in its many facets."
Lynda has sold commissioned pieces and is pleased to collaborate with clients for gorgeous new work.
Come prepared to experience the original works of Lynda Todd.
Contact: Lyndatodd.com cell: 705.760.4899. [email protected]
Add Your Heading Text Here